Welcome to my blog dedicated to saving the work of Ichiro Ninomiya. If this is your first time joining the blog, please scroll down to the first entry to see what we are all about!
A lot of these files I have contain proof prints. Unfinished images used to select the best of the lot. Those are great because I can see the image and scan the ones I like most to share with you. A lot of the files contain only a negative or a stack of them.
They come in several sizes. The black and white images are either on an 8 x 10 negative or a 5 x 7 negative. Sometimes there are 5 x 7 negs with two images on the negative and he would simply cut them in half making two 3.5 x 5 negatives.
The negative images are hard to scan but I figured out a way to shoot them.
Like the image of my sailor here. I dont have a light table, or I would just use that to illuminate the negative from behind. So I put a white screen up on my monitor, put the negative in front of that and photograph it with my camera. Then, I use photo editing software to flip the negative into a positive image like this:
Its the same sailor, just flipped it to face the correct way.
Interesting thought about this young sailor. I am finding lots of men in uniforms from all branches so far; army, navy, air force, marines. This particular sailor was photographed in 1951. Its a reasonable certainty that he and his family spent time in Interment Camps during World War II. And yet, here he is, serving his country and ready to lay down his life to defend it. Says a lot I think.
Because of the way I have to shoot these negatives, there is sometimes some pixelation or visual feedback in the images. This is NOT in the orignals just these poor-man's scans of them.
More finds...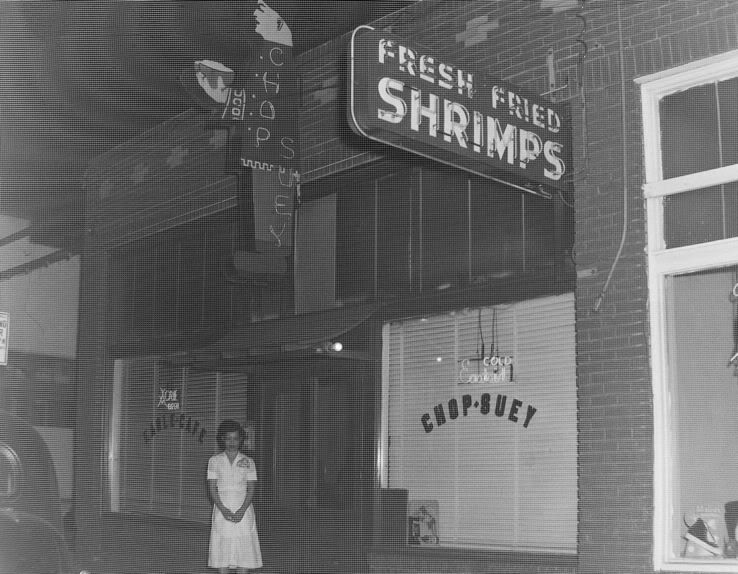 These two shots are from the Eagle Cafe Chop Suey Restaurant. Again, pardon the bad scanning of the negatives but its the best I can do at the moment. Taken also in 1951.
Mr Ninomiya did a lot of weddings in his time and its fun seeing the party as if we are there..
Looked like a fun party. They served Schlitz Beer and 7up and Nehi softdrinks. This was 1951 as well. I wonder what became of this couple.....
I also love these portraits of couples.
Mr. Ninomiya did really great studio work in a time where there wasn't the fast and cheap (but not good) mall places or the department store studios that resemble more a fast-food operation rather than someone creating a lasting memory.
I am also finding a lot of group portraits like this one taken at the Pasadena Japanese Community Center.
Again, ignore the bad quality of the scan.
And there are just a variety of portraits and other interesting images as I go through the bags of files.
This image, by the way, is one of those 5 x 7 negatives that was not cut apart into two seperate negatives yet.
As always, I am doing my best to sound like a PBS Pledge Break Marathon host. I need your help. Previous blog entries have detailed some of the needs I have and I cannot emphasize enough how urgent some of the needs are.
At the moment, I cannot open and sort any more files because I just dont have the space available to me. I can barely move about my living room as it is, so I will have to wait to find new treasures until I can get these files into a space thats better for the sorting.
Take a minute and click the DONATE button there to the right. Any amount will be MORE than welcome. A dollar or ten. A hundred or a thousand. I have a list ready to go of things I can go buy to start saving the lives of these images, and sharing them with you, the families in them, and the rest of the world.
Thanks for helping out and thanks for reading today's entry!
Michael